What an amazing weekend…. Sandra and I had a chance to catch up in Sandra's hometown for a weekend. This was decided one day before we booked the flight.. Spontaneity is always the best.
On our first evening we met in a nice cute bar in the Barri Gotic, the old part of the city, to have some wine and tapas. For the two of us it's kind of a tradition to catch up with some wine and a delicious snack (tapas). It was just the best way to start our weekend. So we had plenty of time to talk and laugh (specially after some glasses of wine).
The next morning we started our day in a nice little cafe. We needed energy for a long girl's day of shopping and sun tanning!
I love Barcelona. It is one of the most beautiful cities in the world! Lots of culture, impressive architecture, history, beach, amazing shopping and a great nightlife.
Barcelona is fantastic for shopping. There is the main road called la Rambla, where you can get all styles and brands. High fashion, cheap labels or vintage.
The famous food market Mercado de La Boqueria is also located there. So whenever you get hungry from shopping, I recommend to get something from the market. You will find healthy smoothies, fresh fruit salads and all kind of delicious and fresh Tapas. If you prefer to sit down and relax for a while in a restaurant, there are also plenty of unique places right at the Rambla.
The Gothic Quarter is the old part of  Barcelona. A very charming place. Many little shops, restaurants, cafes and bars.
After a crazy shopping marathon (I think all of you know this feeling of contentment, exhaustion and excitement), we went to the beach to chill and relax for the rest of the day. In summertime there are lots of people enjoying the nice, sunny weather at the beach. The perfect spot for sun tanning, relaxing, swimming and people watching.
At night we went to a rooftop bar in the center of barcelona. A very stylish and romantic place to be. We enjoyed the great view at night of Barcelona with some nice drinks and lots of laughter.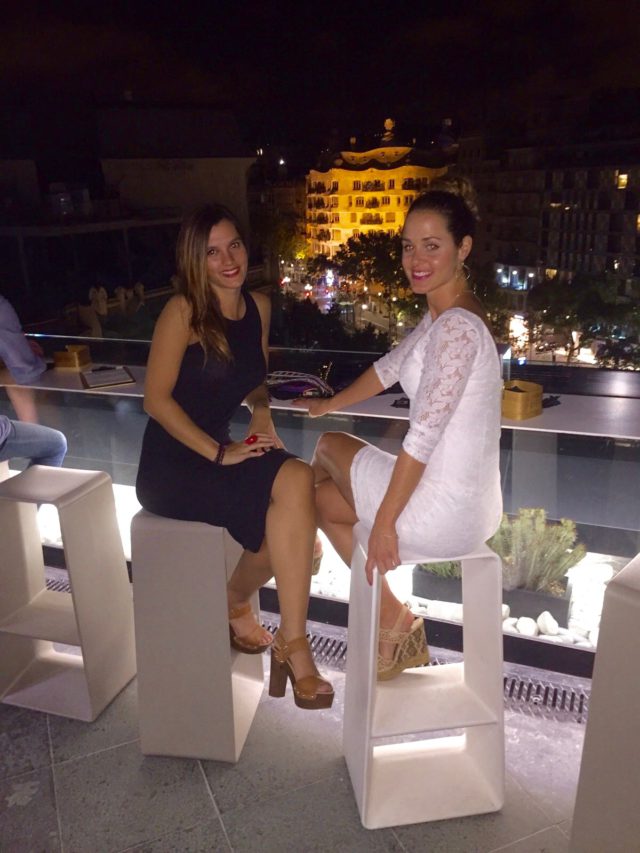 The nightlife in Barcelona is amazing. So many great clubs and bars, but we were too exhausted to party all night. 🙂
This city has a lot of sightseeing to offer.
The Dali museum, the Park Güell, Sagrada Familia, Picasso museum, Gaudi museum, Cathedral of Barcelona….
I got so many great impressions from this city, but sadly it was time for me to head back to the airport to catch my flight back to Zurich.
Back home it was like I was floating on a cloud. I totally recommend a spontaneously planned short trip like that! Visit your friends or family abroad.
Take the chance to jump on a plane and go somewhere! There are so many beautiful places on this planet! And it feels so good to explore new spots! Sometimes all you need is just a two days get away.. It helps to clear your mind, get new inspirations and focus again.
Don't let yourself drown in working life.